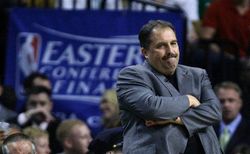 There have been plenty of people in Orlando calling for the head of Stan Van Gundy. It's ludicrous. We've gone into that. But the calls are out there.
Not from anybody credible, mind you. Magic general manager Otis Smith was outright dismissive of the claims Van Gundy's job was in danger. Not the standard denial, but purely dismissive.
But apparently, ESPN's star Michael Wilbon has heard something because he went on his radio show and, according to the Orlando Sentinel, said this.
"I'm not one of those guys who likes to pound on Stan Van Gundy. I thought he got completely hosed in Miami. … I think there are things that Stan does very well. I think he was sabotaged in this case by the trading — not the trading but the letting go to free agency — of his best offensive player (Hedo Turkoglu)… I think that Stan probably will be fired (if Magic lose to Celtics). I don't know how you fire him. I really don't … I've already heard the rumblings that he will be fired if they don't win this series."
Stan Van Gundy fired back with both barrels at shoot around Wednesday, as reported by Fanhouse..
"No. 1, I'm not worried about my job security, and I'm even less worried about what Michael Wilbon would think about anything," Van Gundy said. "He's just … a talking head. I have refused to be on PTI (Wilbon's television show) for years, for five years. I follow that stuff. If you go on guys' shows, they don't criticize you. If you won't go on their show, they do. That stuff is never known. There's a lack of integrity in that business."
Well then.
I'd say this has the makings of a feud, except that both men are mature enough to kind of back off and let this go away. Well, you think they are, but I could be wrong about that. Both men took very personal shots at the other — one's job, one's integrity. That's not like joking about Craig Sager's suit, those are knockout blows. We'll see if they both step away from the brink or not.