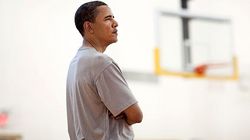 Barack Obama still watches a lot of basketball, although it tends to be the West Coast games, because those are the games that are on when he is finally getting back to the residence. Makes sense, he's got a job with some brutally long hours.
In his sit down interview with Marv Albert shown on TNT last night — which Obama made time for despite not having done a full, all issue press conference in over a year — it was clear he still follows the game he loves. As he said, it just tends to be late at night, with the West Coast games on in the background as he reads some paper you don't have clearance for.
And he still picks the Lakers (although, that was before last night).
"Boston surprised me. They gelled in the playoffs in a way that they hadn't all through the season. (Rajon) Rondo's become one of the best point guards in the league in no time. I mean, when he gets a real jump shot, he's going to be unstoppable.  But I've got to go with the Lakers again. I think (Pau) Gasol may be the best big man in the league right now. He's different from Dwight Howard, but he's (got) unbelievable footwork, speed, savvy, he's playing magnificently. Kobe (Bryant) is the fiercest competitor in the league and they've got what I continue to believe is the best coach in the NBA right now in Phil Jackson, so their going to be formidable and I think it'll be a tough series. Boston's a veteran club, but the Lakers are looking pretty good."
Of course, as seemingly is required by law, all basketball related interviews must include a question about LeBron James and what he should do.
"I think that the most important thing for LeBron (James) right now is actually to find a structure where he's got a coach that he respects and is working hard with teammates who care about him and if that's in Cleveland, then he should stay in Cleveland. If he doesn't feel like he can get it there, then someplace else. The one thing I remember about the Bulls was it wasn't until Michael (Jordan) had confidence in Phil Jackson, Scottie Pippen, Horace Grant, it wasn't until you got that framework around you that you could be a champion. Same thing happened with Kobe (Bryant), first with Shaq (O'Neal) then later with (Pau) Gasol. He's gotten that sense of a team around him and I think LeBron hasn't quite been able to get that yet. That's what he needs to find."

Albert: "Could you, on behalf of the Bulls, throw in perhaps a night in the Lincoln Bedroom or a ride on Air Force One?"

Obama: "You know, like I said, I don't want to meddle. I will say this, (Derrick) Rose, (Joakim) Noah…it's a pretty good core. You know, you could see LeBron fitting in pretty well."
Does the president still get time to play, now that the White House has a built in basketball court?
"Well, these days I probably play once every two to three weeks, not as often as I'd like. But during, say, the health care debate, when things are just going crazy over on Capitol Hill, a lot of times I'll just come out here and shoot or I'll play a game of HORSE and it takes an edge off things."
Is it different playing as president?
"Well, it is true I usually have guys with guns around, so if somebody takes a real hard foul, they could get in trouble. Nobody ever lets me win because if you let me win, you'll never hear the end of it. I'll talk a little trash about you. I'll make you feel bad about yourself if we beat you real bad."