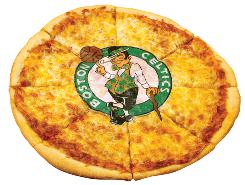 We took care of your NBA-themed breakfast the other team with team-logo toast. But what about dinner?
How about pizza? With your team's logo on it? We're not talking somebody trying to recreate the 76ers logo in pepperoni and olives. We're talking the actual, full color logo.
The NBA has approved this as part of its new rubber stamp anything plan, according to a story in the USA Today (found via CNBC's Darren Rovell).
The logos won't be sold directly to consumers but to some 1,200 independent pizza parlors nationwide. The paper-thin logos come in 12-pack resealable pouches. The image is placed atop the pizza after it has been fully baked and sliced. The logo then melts into the cheese.

"Most Americans don't make it to an NBA game," explains Rick Ellison, the licensee who makes Pizza Fest Edible Image toppings. "This is how they create the experience for themselves."
The best part is this is an equally atrocious idea whether you are melting the Knicks logo on a thin crust New York style pie, the Bulls logo on a Chicago-style deep dish, or the Lakers logo on a pineapple and barbeque chicken fancy overpriced pizza in Los Angeles. Bad ideas are one thing we can count on in every corner of this great nation.
The NBA has gone Simpsons in their willingness to put team logos on anything now — headphones, gardening gloves, barbeque tongs, whatever.
As for what to do about your NBA-themed lunch — NBA logo panini sandwich presses. Coming next year. Yes, we're serious. Bon Appetit.