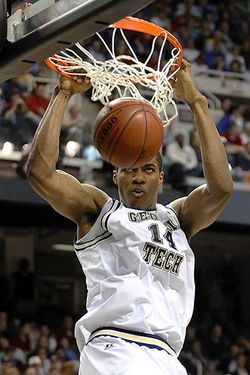 Welcome to the time of year when there are very few locks. When potential can win out over skill sets. When the words upside and motor are overused and overvalued.
It has been long assumed that the top pick in the draft would be John Wall, and the second pick would be Evan Turner. After three seasons at Ohio State Turner had a pretty polished, Brandon Roy style game that would fit just about anywhere.
But ESPN's draft guy Chad Ford is hearing that the Sixers have fallen in love with the potential of Georgia Tech's Derrick Favors and may take him second.
But now it looks like the Sixers are leaning toward Favors, according to what I was told on Monday by a credible source familiar with coach Doug Collins' thinking. Turner isn't a great fit next to Andre Iguodala. And while (Kentucky's DeMarcus) Cousins is a perfect fit in the middle, the team has some concerns about his on-court attitude. That leaves Favors, who has as much upside as any player in the draft.
Favors is big — 6'10", 245 pounds — those are physical attributes pretty close to Dwight Howard when he was measured at the NBA Draft Combine. Favors is seen more as a four, but he can play either inside position. The downside is he is also raw. He can't create his own shot very well, his footwork needs a lot of work on the block. He is a bit of a project.
However, new coach Doug Collins has said he wants to run — and Favors can run like a gazelle. And he can finish. He is one of the best athletes in the draft. There is a fit there, and this is a team that is building so it can afford to wait a few years for him to fully mature. (Although Collins is not known as the most patient of coaches, so we'll see how that goes.)
The smart money is still on Turner. Or maybe DeMarcus Cousins, who could be the best player in the draft but also may pose the biggest risk as not everyone is sold on his character. But you can make a good case for Favors, and it's not crazy to see Philly making that move.