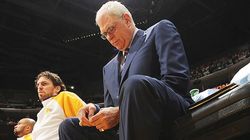 UPDATE: 7:04 pm: Rod Thorn, the man with the power in New Jersey, said, "are you kidding me?" Well, not exactly those words, but that is basically what he told FanHouse.
"It's not true," Thorn said Tuesday in an interview with FanHouse about
an ESPN
report that said the Nets have made "back-channel inquires" about
the possibility of Jackson coaching the team next season. "We've never
approached him. We haven't made any backdoor dealings or whatever it was
called."
Thorn adds he expects Jackson to stay in LA. Thank you. That's what we've been saying, even if that is no fun to speculate about.
1:53 pm: We told you, the Bulls would not be alone.
ESPN.com's Marc Stein is now reporting that the New Jersey Nets have reached out to Phil Jackson through backdoor channels. That follows the Chicago Bulls also allegedly making the same step.
Although the Nets privately acknowledge the long-shot nature of tempting Jackson away from Los Angeles, given the 64-year-old's recent insistence that he's "90 percent" certain he'll coach the Lakers if he coaches anywhere next season, sources with knowledge of New Jersey's thinking have maintained for weeks that new owner Mikhail Prokhorov is determined to make the splashiest hire he can.
Got to admire that the Nets are trying to go big. At some point that is going to pay off.
But not here. As we mentioned before, Jackson wants more than money, he wants more rings. The Nets are a rebuilding project, Jackson is not about to take that on again (as he did with his return to Los Angeles, when he had to start Smush Parker and Kwame Brown for a season).
As for Chicago, the Tribune is reporting that their sources are downplaying the rumor the Bulls have reached out to Jackson. Plus, they reminded us of this May 4 quote from Jackson.
"No, I'm not," Jackson said, when asked if he'd be interested in succeeding Vinny Del Negro. "I think it's a wonderful job for whoever takes it. It's a team on the rise and there's some young talent that showed their ability to come back after probably a devastating first two months. Then from January on they played pretty well."
As we noted before, the Lakers may be cutting Jackson's pay, but he can win titles, he has a comfort level in Los Angeles, it's a warm-weather city and his girlfriend lives here. To get him to move will take more than a couple million dollars.