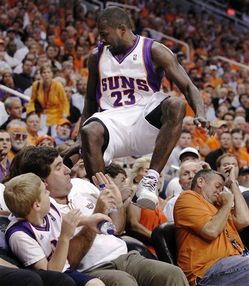 The Suns offense just went nova.
Phoenix could do no wrong on offense in the second quarter, scoring 41 points to give them 64 for the half and a nine-point lead over the Lakers.
The Suns bench — which has been a non-factor in this series — has awoken with 34 points on 13 of 18 shooting. Channing Frye, who was arctic circle cold having missed 17 shots in a row, but he was 3 of 5 from three in the half. The Suns were aggressive on the boards as well and had 8 offensive rebounds.
The Suns had a balanced attack — Frye is the only Sun in double figures with 11 points.
The Lakers did pretty well on offense, they still put up 55, but they are doing it from the outside. The Lakers again not getting the ball inside against the zone, with the Lakers struggles with post entry passes really hurting them. So the Lakers kept passing around the outside, took 13 threes and hit just 4 of them. Exactly what the Suns wanted (those missed threes and their long rebounds fuel the Suns running game).
Still the Lakers are scoring, but they cannot stop the Suns right now. Kobe Bryant — who already went off for 15 points on 6 of 9 shooting — may try to take over and outscore the Suns. But if Phoenix keeps shooting like this, they will even this series up.