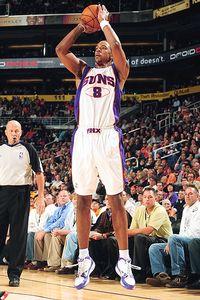 Of all the words spent discussing, analyzing, explaining, and picking apart Lakers-Suns, a good number of them have concerned Channing Frye. The Suns' bench on the whole has had their moments, but Frye is the one reserve that has yet to really contribute with his most valuable skill: shooting. Channing has made just one of his 20 shot attempts in this series, and has averaged just 1.3 points in 15.4 minutes per game.
So naturally, after seeing how much of a positive influence Frye's three-point shooting can be on the Suns' offense in the regular season and the two prior playoff series, fans and writers have been a bit critical of Channing's performance over the last three games. It's hard to shield him from any of it; 1-for-20 is impressively awful, especially considering the Lakers' blatant disregard of the "threat" of Frye's shooting on the pick-and-roll. It's gotten to the point where L.A.'s defenders often give Channing plenty of room to fire, and he still can't connect.
Apparently, Channing has had enough of it. Here's a quote from Frye via Ken Berger of CBS Sports:
"You know what guys, to be honest I'm kind of disappointed," Frye
said. "First you said we couldn't beat them and now you're talking
about a lot of negativity. I think we need to look at how well Robin
[Lopez] is playing, how well Amar'e [Stoudemire] is playing. My baskets
– yeah, they would've helped. Yeah, I haven't been shooting very well.
But I feel like I'm doing other things better, helping out defensively
and getting as many boards as I can. So for you guys to talk about me
shooting, that's kind of – there's better stories to write about than
me shooting."
Berger's response was the perfect one: "With all due respect, that's for me to decide. Your job is to make shots." Zing!
Frye clearly underestimates the consumption rate of available NBA content in print and online, especially during the NBA playoffs. Of course people are writing on Amar'e's huge Game 3 performance or Robin Lopez's fantastic play. Those angles are covered, covered, and covered again. That may provide an interesting morsel, but it doesn't give the whole story of Game 3 or any other, and that's where Frye comes in.
Every player making a significant impact on the game deserves this kind of treatment, and throwing up 19 errant shots out of 20 certainly qualifies. His justifications also come off as a bit defensive, especially when considering that his rebounding really hasn't been above average and his defense far from notable. I'm sure Frye is trying to make his mark on this series, he's just not doing it. That's the story.
This isn't an issue of effort, but one of execution. A hot shooter has gone deathly cold, and Phoenix's number of productive bench players has dropped from five to four.