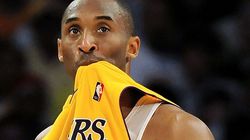 There was a time when Kobe was fresh faced and innocent. Well, as innocent as anyone is in high school anymore, but far more innocent and naive to the world than he is now.
Even then, Kobe was a high school sensation, back before we had one of those every year and manufactured them as if they came off on an assembly line. Today, a couple interesting nuggets from that era of Kobe have come forward.
One is a fantastic photo spread from SLAM, the magazine that was around then and, as now, doing fantastic work. Follow the link and you see a thinner, but still gifted Kobe.
Then there was this note in a Kevin Ding column on the Lakers and Suns.
An assistant coach for the past 20 years, (Celtics assistant coach Tom) Thibodeau has helped his teams finish in the top 10 in field-goal defense 17 times. He was mostly by Jeff Van Gundy's side, but before that Thibodeau was a 76ers assistant when Bryant was 14 and often training with the team … with Thibodeau helping young Kobe along.
In a week or so, Kobe and Thibodeau will be getting together again, but not on the most friendly of terms.