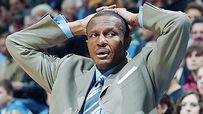 Here's what most people reading this story know about Dwane Casey: He is a Mavericks assistant, used to be the Timberwolves head coach, and he spells his first name funny (if he coached the Heat it would be all kinds of confusing).
But people should know more about Casey the coach in Minnesota, more than that he was fired after going 20-20 to start his second season. Kelly Dwyer at Ball Don't Lie does a fantastic breakdown.
20 and 20 is Casey's record over the first 40 games of the 2006-07 season, a 40-game stint that saw Timberwolves owner Glen Taylor overestimate the amount of talent GM Kevin McHale had put together before firing Casey and asking assistant Randy Wittman (now there's a retread) to take over for the final 41. Working with the same group of Timberwolves, Wittman went 12-30. …

It worked for Casey, as he put the Wolves in the playoff hunt midway through the season with a lineup built around Kevin Garnett that should have been in the Greg Oden hunt. The Kentucky product and one-time-understudy-to-many had the Wolves overachieving, and working hard on both ends. And for Taylor, it wasn't enough. It should have been.

For Hawks fans, and especially Hawks players? This guy is enough.
"Hawks" and "overachieving" are two words that have been mutually exclusive for a few seasons. Not that all of that should fall on the shoulders of the now-departed Mike Woodson, everyone deserves a little blame. But it was time for a change, time to alter the energy around the team. Time to alter the roster some too — a new point guard for sure, and we can discuss if you really need Joe Johnson — but that is a topic for another day.
Casey is a good kind of change. If not for the Hawks then for the Clippers or the Bulls or somebody out there. This guy can coach. He actually showed it the first time around but got fired anyway. This time, give him the players and he will be much better appreciated.