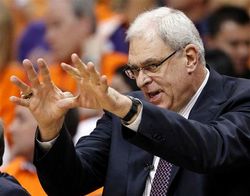 Phil Jackson returning to the Chicago Bulls?
It's a long shot. It's not like he left Chicago on the best of terms. Plus, he would have to leave a title-contending team in the warm-weather city where his once-posed-for-Playboy girlfriend lives to move to a cold-weather city where he would be chasing past glory.
But the Bulls are asking, according to ESPN the Magazine's Chris Broussard.
There has been no direct contact between Bulls officials and Jackson, according to the sources, but people close to both parties have spoken and come away with the belief that Jackson would be open to a potential reunion in Chicago next season.

Gar Forman, the Bulls' general manager, refused to comment on the club's coaching search when reached Monday night by telephone.
Other teams are likely to do the same thing — Phil Jackson has said the Lakers are expecting him to take a paycut from the $12.5 million he made this season. And he has no contract for next season. The assumption is he might be interested in leaving if the money is right.
But the more to getting Jackson out of Los Angeles — he is comfortable now. Prying him out of a beach city to deal with the wind off the lake in Chicago in February will not be easy. But teams are asking, which Jackson has to at least listen to. And should concern the Lakers because it's not about the money with Jackson, it is about the challenge and titles. And depending on how free agency shakes out other teams may offer the chance to chase those things.