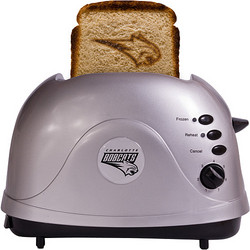 Want to eat what Michael Jordan eats for breakfast? What Gerald Wallace eats? It ain't Wheaties, my friend.
It is toast. Bread emblazoned with the logo of the Charlotte Bobcats. Burned in by special toaster.
I'm sure Kobe Bryant eats from the Lakers toaster. LeBron James eats from the Cavaliers toaster — for now. Erick Dampier from the Mavericks toaster…. okay, maybe not the best example. But you get the idea.
A company named Pangea has created toasters that burn the logo of your favorite team into your favorite bread. Seriously. And that toast is part of a nutritionally balanced breakfast.
The cost is just $39.99, but that is a small price to pay to have the Sacramento Kings logo burned into your toast every morning. You know Tyreke Evans does it. You just know it.