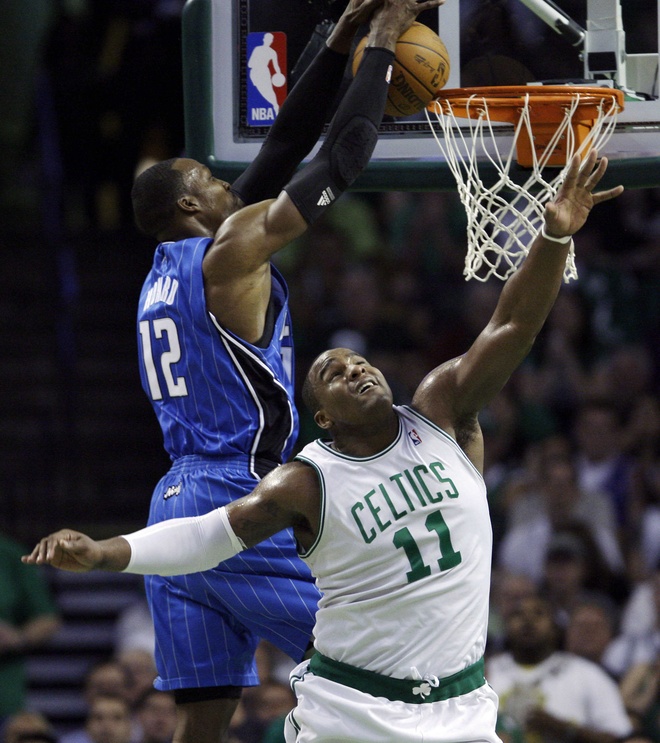 You didn't think it was gonna be that easy, did you?
Actually, for a second there? We all probably did.
The Orlando Magic staved off elimination Monday night with a gutsy 96-92 overtime win in Boston, avoiding a sweep and sending the series back to Orlando for Game 5.
It was the first time all series that the Orlando Magic that had so competently destroyed teams in the second half of the regular season and the first two rounds of the playoffs made an appearance. Knocking down threes, playing tremendous defense by contesting every shot and closing lanes, creating open looks with multiple rotations off the pick and roll, and competing at an NBA championship-worthy level. Oh, yeah, and Dwight Howard did his thing.
The Big Freak was dominant, pouring in 32 points to go along with 16 rebounds, and the two were connected. Five of Howard's boards were offensive, and in overtime, he simply was too much for the drunken seal, Glen Davis, to stop. This after Glen Davis played a fine game, even nailing an 18 footer to get the Celtics back within one possession late in the third.
This one was an all-out fight, stop to finish, and nearly ended up with one. Dwight Howard popped Kevin Garnett in the mouth with a loose arm that may or may not have been drawn upward by KG (depending on if you prefer blue or green), and Garnett responded with a shove, drawing a technical. That brought the Celtics back into it and they went on to take the lead at one point.
The Celtics lost despite a brilliant game from Paul Pierce, who had 32 points, 11 rebounds, and two steals, including a vicious dunk late in the fourth where he blew past J.J. Redick like he wasn't there. The one thing that's been certain in this series is that neither Vince Carter nor Mikael Pietrus, nor Matt Barnes can stay with Pierce in any respect.
The Magic back court was a huge weapon Monday, with Jameer Nelson and J.J. Redick combining for 35 points, knocking down 9 of 12 three pointers between the two of them. Redick's defense on Ray Allen continued to be superb and gave the Magic another weapon and ball handler, even if Allen knocked down a few tough shots and Redick had a few turnovers in the process. The net gain was a positive, much better than Vince Carter who had three points, 3, in an elimination game.
After Garnett's little tussle and outburst, he knocked down a huge jumper over Jameer Nelson, then made a face and a hand gesture and basically acted like Kevin Garnett. However, Garnett continuously passed up shots in overtime, creating turnovers and bad possessions.
So now the series returns to Orlando, and you can bet this won't sit well with the Celtics. For as many things as went wrong for them Monday, they had a chance in overtime before Jameer Nelson started dropping bombs like the air force, and will look to not let the Magic any further up off the mat. The Magic have to take their success tonight and add to it, maintaining the intensity and somehow getting some level of contribution from Matt Barnes, Mikael Pietrus, or Vince Carter.
Otherwise, this will be what's referred to as a gentleman's sweep. Where you give the opponent one, you know, to be polite.