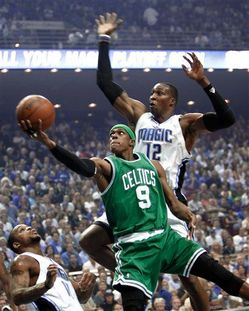 One beloved Boston sports team — the Boston Bruins — just lost a series where they were ahead 3-0. The Philadelphia Flyers came back and spanked them.
So there it is Orlando, your ray of hope. It's not much of one, it's not even the same sport, but your team hasn't given anybody much reason for hope in this series, so you take what you can get.
The smart money is on the Celtics closing this series out tonight. Not only have they been the better team –with the Magic unable to execute their game plan in the face of the Celtics defense — but also they have taken the fighting spirit out of Orlando. After the Magic rolled over in Game 3, what would lead one to expect anything will be different for Game 4 tonight?
Orlando needs somebody to be their Dave Roberts. Someone other than Dwight Howard, who the Celtics will let have a big game as long as his teammates stay cold (see Game 2 for example). Someone on Orlando needs to step up and start hitting the shots the team has been missing, someone needs to make some defensive plays, someone needs to inspire them with effort.
The Magic need that one win to plant the seed of hope and give it a little water.
But that seems a long shot, the Celtics have intimidated the Magic. Boston can cover Dwight Howard one-one-one so they stay home on the three-point shooters, and Orlando can't seem to deal with that. Orlando was one of the best executing teams in the NBA during the season, now they look timid. The Celtics got physical, and the Magic backed down. Not Stan Van Gundy, the players. There has been no fight in that dog. What we will likely see tonight is a lot more of this.
Maybe, maybe Orlando will come out with some fight tonight. Maybe they will be proud and the Celtics overconfident. Maybe Rajon Rondo will decide to work on his midrange game tonight. Maybe Rashard Lewis will get hot from three.
Probably not, though. It's probably over and tonight we will just watch the death throes of a Magic season that had looked so promising. And we'll watch the Celtics get ready for another Finals.