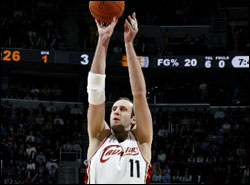 Mike Brown is getting some love from teammates the day after he was kicked to the curb despite two 60-win seasons in a row.
The Cleveland Plain Dealer asked around and Zydrunas Ilgauskas and Mo Williams had their former coach's back. Big Z, take it away:
"I have nothing but good things to say about him," Ilgauskas told The Plain Dealer. "I enjoyed playing for him. I think coach Brown is a very good coach.

"Obviously, we didn't achieve what we set out to achieve, which is to win a championship. But if you're going to lay all the blame on coach Brown and think that's going to solve everything, you've got another think coming. I think we're all at fault — the players, everybody. You have to, at some point, accept some of the responsibility. We all have to do that."
Whoa, just wait one second there. It is the players' fault, not the coach? That is blasphemy.
"Do I think he deserved it? No," Williams said. "My question is: Who's out there that's better? He's not a bad coach. To fire him, that's making a big statement. After him, you have to get a Hall of Fame coach.

"I thought we prematurely acted on our emotions, as an organization. I think he did a good job. If anything, bring in a veteran assistant. I think we just could have gotten better instead of blowing it all up. Now we're starting over."
Mo and Big Z can talk all they want, but right now only one voice really matters –LeBron James.
Officially, he said nothing. But when he went in press conferences these playoffs and publicly questioned the team strategy, that spoke volumes. If he wanted Brown as coach, Brown would be the coach today.
Thing is Mike Brown deserves some blame, his offensive sets could be simplistic and unimaginative, his adjustments not matching the needs. Sometimes if you're going to take the next step you need to make a change. Maybe, probably this was as far as Mike Brown could take this team.
But don't for a second think this is all on him.