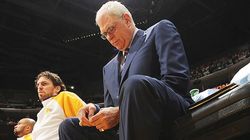 Mike Brown is out. The Cavs have a decision to make. And they can't afford to screw it up.
Look at the best coaches being interviewed around the league for the current job openings: Avery Johnson, maybe Celtics defensive guru Tom Thibodeau is in there.
That is not good enough for the Cavaliers. They need a name. A star. They need someone that LeBron James would stay in town to play for. And you can bet they have a list — no team fires a coach without having replacements in mind. Despite how it looks with the Bulls handling of their search, even they had a list.
So who is on the Cavs list?
Brian Windhorst of the Cleveland Plain Dealer says the dream starts with Phil Jackson. The theory goes that Jackson is being asked to take a pay cut by the Lakers, he might feel spurned and start looking around. And if someone else wants to pay him, maybe he'll leave. He certainly would be the ideal coach to teach LeBron about what it takes to win, to get over the hump in the playoffs.
But it's not going to happen. Well, 99 percent (although one percent is enough to fuel dreams). While Jackson has not decided, those close to him do not think he's leaving a championship contending team and the city where his girlfriend Jeanie Buss lives. Jackson is comfortable, and his next step is far more likely to be to his ranch in Montana.
Then there is Mike Krzyzewksi — every member of Team USA wants him as his pro coach. He is a name. And he also isn't leaving Duke, either. Not even up for debate.
The more likely names are Jeff Van Gundy and Byron Scott. Those are two experienced coaches who have won as NBA coaches — not titles, but they have been on the doorstep. They have experience with some of the biggest and best players in the game. And they would be hungry for the chance to coach LeBron. Any smart coach realizes how key he is to winning.
Then there is John Calipari, the Kentucky coach with ties to LeBron (through Williams Wesley and CAA). Who knows if he can succeed as an NBA coach the second time around, but if he can keep LeBron in a Cavaliers uniform that will be paramount.
After that, the Cavaliers would need another big name or they would be settling. If Lawrence Frank or Dwane Casey or Thibodeau or Johnson becomes the top candidate, well then a lot of people have turned the Cavaliers down. And it would feel more and more like LeBron will as well.