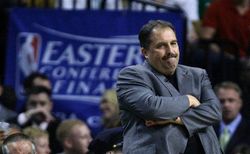 The Orlando Magic got punched in the mouth. They fell to the ground. And they didn't even try to get back up.
Let's not take anything away from the Celtics, they came out hungry, they came out wanting to end it. And they did. Well, sure, they still have to play one more game, but the Celtics came out and played like a team ready for the Finals and a banner. The Magic played like a team ready to go home.
This was not about Xs and Os adjustments, that was Game 1. The Celtics came out with their plan, by Game 2 the Magic came back with their adjustments. But it is moot for Stan Van Gundy to draw up changes when the players don't execute. The inside-out offense doesn't work when you shoot 26 percent from three. This wasn't about strategy.
The Magic need to ask where their fight was. They may have lost anyway, but they rolled over and played dead.
"It seemed like tonight our bodies was here but our minds wasn't," Dwight Howard said in a televised press conference on NBATV after the game. "It seems like our hearts wasn't there, too."
The Magic were one of the two best executing teams in the Association this season — they ran their offense beautifully (Utah was the only other team that did that). But in Game 1 in this series the Celtics got physical, and when knocked off their game the Magic looked lost. They never fought back.
Tonight Boston took their effort to a new level. And Orlando…
"I thought there were several in the first half, hustle plays like that all went their way," Van Gundy in his televised interview. "I mean they were a step ahead of us on every play. I though they worked harder than we did. I thought they out competed us."
Van Gundy tried to throw himself on the sword in his post game press conference, but this is not really on him. Maybe there were little things he could have done — go to JJ Redick a bit earlier, for example — but when a team comes out flat for an Eastern Conference Finals game that is on the players. Howard admitted as much.
There needs to be accountability in the Magic locker room — and that starts with Howard and the other leaders.
"What I said to them after the game was there are a lot of guys in this room that have worked very hard to bring this franchise up a long way… to make this team to where it is a contender, to where it has gained respect and everything else," Van Gundy said. "And that game out there tonight, not just the score but the way it went tonight is disappointing because that is not who we are, that is not who we worked so hard to become.
"Between right now and Monday night there is going to be a lot of soul searching, a lot of pulling together. The easiest thing to do, for anybody to do when things go badly is to escape…. And try to escape blame as much as you can so it goes to someone else. It takes very mentally mature people to stand up and say no, I'm a part of this…
"If we don't have that kind of toughness, we shouldn't be here anyway."
It doesn't look like they do. And that is on the players.