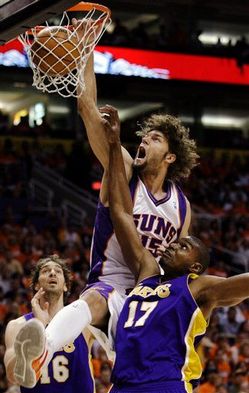 The Suns have gotten into a zone.
The Suns came out far more aggressive on offense– they looked like the Suns we've been expecting on offense. Amare Stoudemire was attacking the rim, Steve Nash was hitting rainbow jumpers, even Robin Lopez had a power dunk.
But that didn't stop the Lakers offense in the first quarter — the Lakers put up 32 points on 58 percent shooting
But in the second quarter the Suns zone defense, which the Lakers shredded before, finally slowed the Lakers offense. Phoenix kept the ball on the perimeter and the Lakers started missing jumpers (except for Kobe Bryant, who was 9 of 14 for 19 points).
If that defense can continue to do the job in the second half, we might have a series.