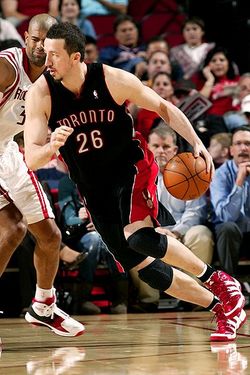 There were times that Hedo Turkoglu seemed happy in Toronto. For example, late at night in the clubs.
But not on the court, and he said as much in an interview with a Turkish newspaper (via Rotoworld). (Be warned, when you click this is a pretty rough translation.)
"I'm not happy. I'm depressed because of events towards the end of the season developed."
Like when he was benched because of his play. The thing is, his play was about what it was the year before in terms of his shooting numbers — his true shooting percentage (points per shot attempt) and just about everything in terms of rebounds and assists per possession used were about the same. He had the ball in his hands less than he did in Orlando (when Jameer Nelson was out) but nothing else was really unexpected.
Basically, Toronto got what they paid for. And Turkoglu is likely to be a little more tired next season as he will spend the summer playing for the Turkish national team, as they host the FIBA World Championships.
If it makes you feel any better Hedo, the feeling is mutual. Raptors fans are not happy with you, either.
And with three years, $31 million left on a deal that makes him virtually untradable right now, you guys are not going to have to get along for a few more years.