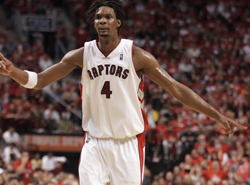 UPDATE 5/22 9:52 am: Bosh's agent has denied there is a list to our own Ira Winderman (writing for the South Florida Sun Sentinel).
"I haven't closed the door on anything," (Henry) Thomas insisted. "I haven't
given Bryan any lists. There is no list. This is a process that is
ongoing."
Nobody believes that, especially since later on Toronto General Manager Bryan Colangelo confirmed to ESPN that they have been given a list.  Winderman, later on in his piece, says sources tell him there is a list, although the five-team one listed by ESPN is incomplete.
While Bosh cannot negotiate with other teams until he is a free agent on July 1, the Raptors can start to negotiate a sign-and-trade deal at any point because they own his rights. For now.
5/21 5:47 pm: ESPN is reporting that Chris Bosh's agent has provided the Toronto Raptors with a list of five teams he would like to play for on his next contract.
One of them is Toronto. So that's nice. They're still in the running. That has to make them feel better as they stare down the barrel of the gun that's been aimed at them for the past six months.
The other teams are the Chicago Bulls, Los Angeles Lakers, Miami Heat, and New York Knicks. The Raptors were informed of this in the event they want to begin pursuing sign and trade deals with those teams. The report says Bosh prefers that option because it nets him the extra year and salary that goes along with it. It's also likely that Bosh doesn't want to desert his first NBA home without giving them anything in return.
If we're assuming sign and trade, go ahead and throw New York out. They've got four players on roster and not nearly enough to cover a max contract. Miami is also unlikely, barring some bizarre double sign-and-trade that would never happen. Which leaves us with the Raptors, Bulls, and Lakers. Let's put the Raptors aside for a moment because just by telling the Raptors this, you have to consider the odds of them retaining him low. This seems more like a "Hey, so, you might want to start making plans" conversation, even if his heartstrings could still be pulled back North.
The Bulls and Lakers would both have packages that would interest the Raptors. The Bulls have contracts of lower length and don't have considerable young talent to provide. The Lakers on the other hand, have big contracts to fill the void, including Andrew Bynum, a big man with enough upside to draw the Raptors interest should Bosh want to follow up on his little visit to Staples earlier last month.
The deciding factor could end up being something else entirely. LeBron James. ESPN's sources indicate that Bosh is likely to sign with Chicago if James chooses the Windy City. In that eventuality, a quick sign and trade netting Luol Deng and his death scourge contract and Kirk Hinrich would probably be worked out. It would also pretty much make for the most dominant Eastern team with a starting five of Derrick Rose, Some Person-Who-Cares, LeBron James, Chris Bosh, and Joakim Noah. Run, children. Vaminos.
This list isn't shocking by any means, but it is a significant development. It means that leaving is formally on Bosh's mind, and he's pursuing an exit strategy, even if giving the Raptors hope by including them on the list. It means the Lakers are in play, which somehow makes the team headed to the Finals even scarier than they already are. And it means that LeBron does have the power to shift momentum.
The Heat are going to have to figure out a strategy for convincing Bosh to forgo that final year if they want to lure Bosh in. New York may want to start considering Plan B.