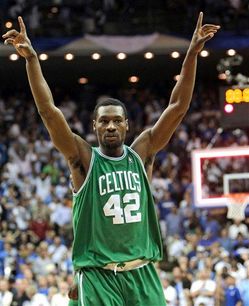 NBA coaches tend to operate like a lazy politician — they use fear. Scare the team by showing them their mistakes and the consequences, press the buttons on their fear of failure (or threaten their playing time), motivate them to work and focus to avoid that.
Doc Rivers has to find another way — there's not much he'd want to change about the first two games of the Eastern Conference Finals. The games were close, but the Celtics defense was fantastic and they closed out games on the road. They are up 2-0. About the only thing the Celtics have to worry about is a loss of momentum. So we'll try to play that up.
In the last round against the Cleveland Cavaliers, the Celtics got a momentum turning win at Quicken Loans Arena, tying the series at 1-1 heading back to Boston. Everything was going the Celtics way…
Except for the schedule. They had to take three days off, a game on Monday and the next one on Friday. Momentum took a holiday. The Cavaliers came into Boston and smacked the home team around good, winning by 29.
Now in the Eastern Conference Finals, Boston went on the road and momentum was all theirs — they took two games from the Magic. Boston's defense slowed Orlando's perimeter players, Kendrick Perkins and friends have played the mighty Dwight Howard man-up pretty well. Everything is going the Celtics way…
Except for the schedule. Three days off again.
Frankly, it's just not much to worry about. The Celtics are coming home and it's much more likely they sweep the Celtics than lose four out of five.
But the Magic remain a dangerous team. They did not get an invite straight to this round, they swept out two teams to get here (including a Hawks team that had a better record than the Celtics). Ignore them and start thinking about the Lakers at your own peril. What you don't want to do is have a game that gives the Magic hope.
At home, Boston can try to push the pace a little on offense — get some turnovers and have Rajon Rondo convert that to easy buckets. At home, the Celtics role players should step up and provide more. They should get some bench play.
Defensively… don't change a thing. Keep the Magic in the halfcourt, play Howard with just one man (who cares if he scores 30 again?) and stay home on the perimeter shooters. Don't let them start driving into the lane for easy buckets, keep defending the rim.
Just keep doing what they have been doing. And keep momentum on their side.