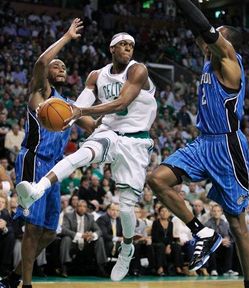 There is no point in playing Game 4. None. If there was any way, I think the Magic would actually be okay with a mercy rule and just calling it a three game sweep. Because they clearly have no interest in trying at all.
It's a struggle to find a hook to explain this game. The Celtics were better. Are better. Are superior in every way. Smarter, stronger, more aggressive, more physical. The Celtics shot better, rebounded tougher, made smarter plays, kept with it, executed, and totally dominated the Magic 94-71 in Boston to take a 3-0 lead. The series is officially over, if it wasn't after Game 2.
Paul Pierce was deadly, adding 15. Rajon Rondo was still the best player on the floor, at one point outracing Jason Williams who had a five step lead on him, taking the ball, then scoring on Williams. Glen Davis put in huge minutes, actually leading all scorers with 17 points. . Kendrick Perkins held Dwight Howard to 7 points on 3-10 shooting.
And oh, the Magic. Vince Carter was the player he's always talked about being, in the bad way. He seemed willing to accept being just another guy on the floor. Jameer Nelson had 1 assist and 4 turnovers. The lead was 20 in the second, 30 in the fourth, and wound up as 23 from the scrubs.
The playoffs? They have sucked. Horribly. We haven't had any competitive games and the teams that barely tried the second half of the regular season have shown they could have given us greatness and chose not to for four months. But they're giving it now.
Game 4 is Monday. You have to wonder if Orlando will even show up. They haven't so far.
The legacy effect of this game is that Dwight Howard is still not an elite player, despite finishing third in the MVP voting, that Rajon Rondo may be the best point guard in the NBA, that defense still wins championships, and that you have to wonder the effect of this game on Stan Van Gundy, as great as he's been.
You can go ahead and pen over the pencil for the Celtics side of the Finals. Expect LA to finish out the rest shortly.