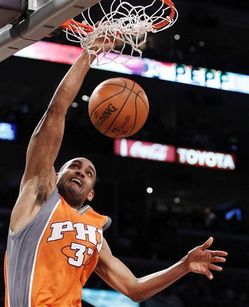 The Phoenix Suns are not going to get well against the Lakers. Not this series, the Lakers are going to win it. Phoenix is not going to be able to do the one thing it needs to counter the Lakers — grow three or four inches a man.
But like taking a cold medication, for a few hours — one game or two — the Suns can mask the symptoms. They can simply outscore the Lakers in a shootout.
Their medicine: Going home. US Airways Center.
The Suns cannot stop the Lakers offense. Look at the Lakers big men's numbers through three games: Pau Gasol 65.6 percent shooting, Lamar Odom 64 percent, Andrew Bynum: 77.8 percent. After Game 2, Grant Hill and Suns coach Alvin Gentry said they basically were not sure how to slow the Lakers.
But the Suns are capable of scoring a lot more points.
That the Suns do at home, and do it well. The Suns play at a faster pace at home. Like most teams, the Suns stars do not get a lot better at home but their role players do — guys like Channing Frye (who Gentry said the Suns had to start getting something out of this series) and Jared Dudley and Dragic Dagic suddenly seem unable to miss. They seem quicker, too. They play with more confidence.
We have seen the Suns do this for a spurt — the third quarter of Game 2. The Lakers "only" scored 25 that quarter but the Suns scored 34. They got some turnovers and converted them to easy buckets in transition. They drained three pointers. Grant Hill looked 25 again. The vaunted Suns offense started to really click.
It didn't last into the fourth quarter. And let's be clear, the "we'll just outscore them" mentality will not carry the series for Phoenix. But it can for one game. The Suns are not going to roll over.
"You know, no one just let us get to the Western Conference Finals," Gentry said. "We earned the right to be here. And we'll continue to plug away."
To a man, the Lakers said they know this. They talked about expecting the Suns to play better at home and that they need to step up. That their defense will need to be sharper, that their offense will need to continue as it has.
In the end, the Lakers have the winning hand — they are taller, they are better. But the games Sunday in Tuesday in Phoenix will be tougher than the first two, the Suns will not go down easily. The Suns still think this is a series.