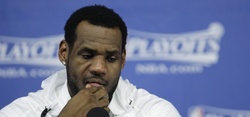 Cleveland officials will not even discuss it. It is a thought they have banished from their minds, as if even allowing it to creep in seems to make it a little bit more possible. They don't want admit the worst, nobody ever does.
But the reality is they could lose LeBron James this summer. Smart money still says he stays in Cleveland, but nobody knows for sure. He could be gone. And if he is going, then a hard question falls to Danny Ferry and the Cavaliers staff:
Would they do a sign-and-trade for LeBron James?
Probably not. Brian Windhorst — the best source for Cavaliers insight — said it simply and clearly:
"…that's the last thing the Cavaliers want to do. They don't want to assist LeBron in packing his bags out of here."
For those unfamiliar a sign-and-trade, it is when the team a player is leaving signs him to a new contract than instantly trades the player and the contract to another team. Both sides have reasons to play this game. For the player it is money, because under the current Collective Bargaining Agreement the team that owns the rights to a player can sign him for one more year (six instead of five) with higher raises. (The goal was to give top players an incentive to stay with one team.) For the team in means getting something back for a player that was going to leave anyway.
For a max-contract player like LeBron a sign-and-trade means almost $30 million over the six years of the deal. That's a lot of scratch, and LeBron may want six years on his deal under this CBA because the new one about to be negotiated likely will     have lower maximum deals and fewer years permitted.
A sign-and-trade is almost expected in the case of Chris Bosh, but he is far more likely to leave Toronto than James is Cleveland. The thing is it takes two sides to cooperate on a sign and trade — teams have to agree to the deal.
James would have to force the issue on to the Cavaliers — they are not going to help him out the door, as Windhorst said. James will have to say "I'm gone anyway, you can get something or nothing for me."
And even then, Cleveland could say no. They may not act logically, they are the dumpee. Anyone who has felt spurned in a passionate relationship knows the feeling — you do stupid things out of anger and frustration. You don't think with your head, you don't think about the future. The Cavaliers could be that way with LeBron.
If they do agree to listen to sign-and-trade offers you know the New York Knicks will jump in, because they will jump in all things LeBron. Then there are the Chicago Bulls — already rumored to be a preferred destination by James — who could make an offer. They could put up Luol Deng and some other smaller parts (Hinrich?) to balance out the salaries. A sign and trade would preserve the Bulls cap space to bring in someone like Bosh to pair alongside James and Derrick Rose and vault the Bulls to contention.
But the Cavaliers likely would resist sending James to any team in the East. Are they really going to okay making a rival in the Midwest an instant contender? If a sign-and-trade were to happen it likely would send LeBron West.
There are teams in the West that would love to dance. Mark Cuban was tampering yesterday but his team would be in a good spot, able to offer cap space with the non-guaranteed contract Erick Dampier and some talented players. There are other teams, like the Los Angeles Lakers, who could offer Andrew Bynum and parts to pair LeBron with Kobe Bryant so they could just destroy the world for a couple years. Other teams will bid as well.
But the Cavaliers don't even want to think about it. That is where it stands now, and likely always will.