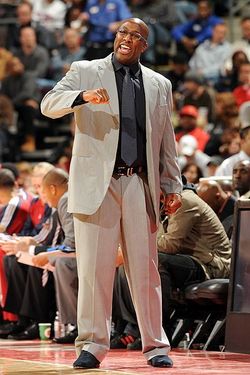 Everyone knows the firing of Mike Brown is coming. Debate whether it is warranted or not all you want, the finality of it has never really been in doubt. It was just a matter of timing.
According to NBA.com's Sam Amico the axe could fall as early as Friday and will happen by Sunday.
That fits within the 7 to 10 day time frame that Cavs owner Dan Gilbert set for making a decision when he talked to the media last Friday. Since then, Gilbert has gone into radio silence as he evaluates the team (which is code for desperately coming up with ways to keep LeBron James.).
Also, Gilbert saves money by acting now — Brown's contract says after 10 days he has to be paid for next season. That is $4.5 million.
The sooner the better for Brown, who likely would get an interview or two with other teams currently trying to fill a coaching vacancy. To answer your question, because he just led his team to the best record in the East two straight years, that's why.