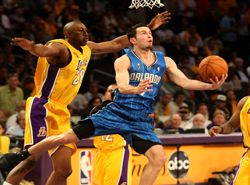 Although the Orlando Magic have struggled at times in their series against the Boston Celtics, they need not despair. It's never good to drop two games on your home court in the playoffs, especially in consecutive contests in the series' opening games.
Still, Orlando has lost two games by a combined seven points against a team on an obscene roll. It makes winning the series incredibly difficult, sure, but for as well as the Celtics have played and as poorly as the Magic have at times, the slim scoring margin between the two has to be seen as reason for optimism.
The key is for Stan Van Gundy and his staff to identify the most problematic areas and the Magic players to adjust before its too late. In a seven-game series, changes in approach and execution are only as influential as the time at which they're implemented. Everyone within the Magic organization can only hope that there's still time to implement a change, go about making the necessary adjustment, and do their best to perform beginning with Game 3.
One possible adjustment is to yank the injured Matt Barnes from the starting lineup, and replace him with the far more effective J.J. Redick.
Just by watching the flow of the Magic offense, you can notice a significant difference between when Redick is in the game compared to when he is not. It's as much about what Redick does as it is about what Barnes doesn't (or can't, with his injury). Revisit the video from Game 2, and you'll not only see Redick contributing off the ball on both ends (either by chasing Ray Allen around screens or making his defender chase him), but also with the ball in his hands or the hands of his defensive assignment.
The only situation in which Redick seemed to struggle was in a temporary lapse of judgment that cost the Magic a proper look at a game-tying three-pointer. That play was an outlier. It was a bout of temporary insanity for a player that has played very well this season and has carved out a place in the NBA by working and making the right play.
Don't trust me? I'd like to point your attention to an excellent piece by Ben Q. Rock of the Orlando Pinstriped Post, who used a combination of Redick-centric stats as evidence of J.J.'s impact. When you look at his production relative to Barnes', the decision to start Redick doesn't even seem debatable.
This is a player that's giving the Magic the best chance to win by playing with the starting unit, and even though Stan Van Gundy has displayed an unwillingness to alter his starting five (while still praising Redick's impact, mind you), the most important thing is that SVG continues to employ this incredibly successful lineup for serious minutes. Redick has forced the adjustment with his play, and J.J.'s 34 Game 2 minutes should establish a trend for the remainder of the series.