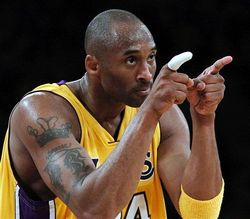 Kobe Bryant was the best passer on the floor during Game 2.
Yes, Steve Nash was still on the floor. And he is still Steve Nash. But Kobe was taking pages right out of the Nash playbook all night long — including one third-quarter play where he was dribbling near the top of the key, nobody rotated on to Pau Gasol after he set the screen then rolled to the hoop (Amare Stoudemire was losing him a lot in the second half) and Kobe did a one-handed, right-out-of-the-dribble pass to Gasol for the layup. It was the kind of pass Nash does better than anyone in the league. But not Wednesday night.
Nash's gift is his court sense, his vision. When he probes into the paint — especially off the pick-and-roll — he draws help defenders coming to shut him off. Nash's ability to recognize where the help came from then make the defense pay by hitting that helper's man with a pass borders on the supernatural.
Kobe was supernatural himself in this one.
If you double-team, you are by definition leaving someone open. In the first half, the Suns sent their help off perimeter players — and Kobe had three assists to Ron Artest on three-pointers. (Artest was even hitting the left corner three, something that he was shooting just 31 percent in the playoffs coming in and Phil Jackson has asked him to take less of. But when they are falling….)
The Suns learned and adjusted. They stopped doubling from the wings in the second half, in fact they didn't double as aggressively at all. The Lakers ran more pick-and-roll more, and when the Suns defense was slow to rotate help, Kobe picked that apart. He was pinpoint in his passes.
Kevin Arnovitz at TrueHoop breaks this all down in video form — go watch the video that should have general managers around the league debating how much they want to offer Stoudemire on the open market this summer. But those defensive lapses only matter if you can exploit them. And Kobe is a very good passer who can do just that.