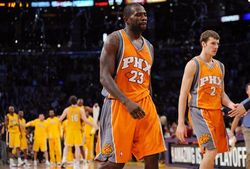 The Suns played straight up man-to-man. They mixed in some zone. They tried to front Pau Gasol in the post. They played behind him. They tried to double team Kobe, both aggressively and once he picked up his dribble.
They tried every defensive gimmick in the book — and the Lakers scored 124 points on 57.7 percent shooting. From three they shot 56 percent. You win doing that. Game 2 was pretty much a repeat of Game 1 despite the Suns adjustments.
So what now?
"I really don't know what the answer is," Grant Hill said. "They had a lot of points in the paint (52). Our rotations aren't great and we've just got to play better."
The Suns seemed stunned and a little confused. They said the right things — to a man kept noting that all the Laker have done is exactly what they were supposed to in winning their two games at home. If the Suns can do the same, this series comes back to Los Angeles next Thursday tied up.
But that totally ignores how those two games looked. The Lakers were able to do what they wanted when they wanted on offense. And they wanted to go inside where the Suns are not as long. When pressed for things the Suns could do to slow the Lakers offense, the answers were execution and variety. And say a few prayers.
"We've got to be earlier, we've got to be earlier on our help rotations…" said Amare Stoudemire, a guy who looked particularly in a fog defensively at points. "That was the game plan, to stay in front of Gasol and have them throw it over the top and our help was going to be there and kind of trap him. But he threw it over the top and the help was a little late and he just finished. It was a little frustrating at points."
The Suns had a period of success in this game — they tied the game in the third quarter, going with a small-ball lineup that had Jared Dudley at the power forward spot. It worked beautifully on the offensive end, stretching out the Lakers defense and getting Dudley and Hill open looks that they knocked down. But it didn't solve the core problem of slowing the Lakers offense.
"It makes us very small defensively," Suns coach Alvin Gentry said of the small lineup, but adding he might go back to it. "And with Lamar (Odom) in the game at the four, we either have to have Jared or Grant Hill guarding him and, obviously, that is a big advantage for them."
Dudley picked a lot of fouls in that stretch, and ended up fouling out in the fourth quarter.
Back at home, the Suns tend to play faster, something the Lakers got sucked into for a part of the second quarter and may well again. But defensively, Gentry emphasized just continually giving the Lakers different looks as the only real option.
"We've got to throw different looks, because we did front he post and then they went to what they call solo, which is posting up Pau, and there's a lot of action on the weakside," Gentry said. "And they were able to throw it over. We got a smaller guy trying to rotate in. So they had some success with that.
"We've just got to keep changing it up and hopefully they won't shoot as well in our building as they do here."
Gentry did have one new wrinkle to throw out.
"We just have to take a look at the tape tonight and maybe we'll decide that we let Kobe get 80 and try to guard the other guys," Gentry joked.
Well, we assume he was joking. On second thought, might as well do that. Not like anything else has been working.