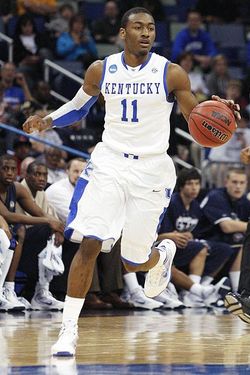 Yesterday, Washington Wizards coach Flip Saunders shot down the asinine rumor that the Wizards would consider trading the number one overall pick this year. Some teams might have, but not the Wizards.
Now, he has gone on the the Junkies on 106.7 the Fan in Washington D.C. and professed his love of John Wall by doing everything but the dance (and he only didn't do that because it was radio).
"John is the by far most dynamic player in the draft. He's probably one of the most dynamic guards to come out in a while when you combine his athleticism, his ability to defend and the speed that he has. A lot of times when players come into our league, you are trying to develop a guy into a point guard. Sometimes you are trying to change a guy who was a scorer or more of a shooting guard in college into point guard who can lead a team. John is definitely a guy who is a point guard. He averaged a lot of assists at Kentucky and pretty much dominated"
But can Flip dance?
"We were doing the John Wall Dance and the Evan Turner Dance and all those dances when we won the first pick."
I'm sure the Evan Turner dance is nice. But The District is about the be a Wall Dance town.