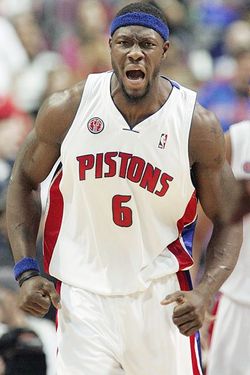 In the middle of a disastrous Pistons season, Ben Wallace had a rebirth, his best season in a long time. Not that anybody noticed because people stopped watching Detroit early on, but he played pretty well.
He played more minutes per game, led the Pistons in rebounds per game, shot at one of the highest percentages of his career, had the team's best raw +/- numbers (and one of the better adjusted) and generally played a better brand of basketball than we had seen from him since the Pistons championship season.
But he will be 36 next season, has had to fight through his share of injuries and that has him thinking about retirement, he told the Detroit News.
"When I am healthy, I can play this game at a high level night in and night out," he said. "But sometimes, those knick-knack injuries take so much out of you mentally. Physically, I can handle anything but mentally when you have those injuries, it takes away from your game."

Pistons general manager Joe Dumars said via text message the team isn't putting any pressure on Wallace.

"We would like to have him back," Dumars wrote. "And he'll let me know when he's ready to make a decision."
Wallace, a free agent, made a very reasonable $825,000 last season and even if he came back at about $1 million that would be a steal for the Pistons if he can produce at the same level he did last year. Dumars sounds like — and would be smart to — take that risk on a one-year deal. Other teams may be thinking the same thing.
The only question is if Wallace himself wants to do it.