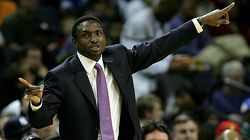 Mike Woodson made the Atlanta Hawks better but oversaw a slow offense despite having amazing athletes for the fast break, and he could never get them over the hump in the playoffs. So the Hawks let him walk.
Their first look at a replacement coach? Avery Johnson, according to NBA.com's writing on twitter.
Johnson is a guy who had the Mavericks playing at one of the slowest paces in the league and who was eventually let go in Dallas because he could not get the team over the hump in the playoffs. He did get them to the NBA Finals, where they were the favorites but got run over by Dwyane Wade and the Heat (and the Mavericks got called for blocking while getting run over, it was that kind of series).
Interesting first choice for an interview. Not so sure he solves the Hawks problems. But he will be just the first of several interviews. Johnson continues to be mentioned as one of the leading candidates for the New Orleans Hornets job as well.