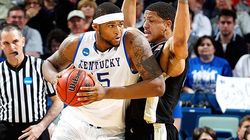 So, that didn't go so well for the Nyets.
The franchise savior will be headed to Washington, or, if they lose their minds, Philadelphia. The odds of landing LeBron, Wade, Bosh have just shrunk to tiny proportions, and they're looking at the third pick in a two-superstar-pick draft. That's a pretty big fall on the first big day of the new Nets, or whatever they'll be called.
But third pick it is, and they'll have to try and come up with the best option available. So what do they need?
Obviously, Devin Harris isn't going anywhere. Brook Lopez is their best player now that Wall's out of the picture. Courtney Lee can work as a two guard. Terrence Williams showed a lot of promise at small forward. So that just leaves power forward, if we're going from a true need standpoint. Yi Jianlian has not been a viable option from production or injury stability so that's the easiest way to go. Let's look at some options.
1A. Derrick Favors, PF/C, Georgia Tech: The (un)sure thing. You can go ahead and take the "/C" off Mr. Favors. Brook Lopez is the big here. Favors is the easy choice. 6-9 and change (depending on who you ask), with a good frame and excellent athleticism, he's got a lot of the words you want associated with a third overall pick as a forward. But while everyone seems to be certain that this is where the Nets should go, there have to be some doubts.
For starters, and most glaringly, is the situation of redundancy. Lopez provides them with a superb all-around big. He has touch around the basket and an arsenal of moves, but also the brute strength to rebound and fight down low. Adding Favors as a superfreak athlete doesn't really address their biggest need from an offensive standpoint, and that's a forward that can stretch the floor. An ideal candidate would have Favors athleticism but a more polished offensive game. Even a handful of post moves would be handy. But at Georgia Tech, in a limited system, albeit, Favors failed to showcase that kind of potential.
The Nets geared their strategy around getting Wall and signing free agents. They now do not have Wall, nor Turner (most likely), and going with Favors would be acquiring another hyperathlete that can't necessarily move the NBA's worst offense forward.
1B. DeMarcus Cousins, PF/C, Kentucky: The headcase.  Cousins is at least one spot lower than he should be, and possibly two, based solely on his maturity level. Which is remarkably questionable. Cousins is a massive headcase, prone to fits, tantrums, freak-outs, and mouthing off. Let me put it this way. If we're taking bets on "Most likely to say something in the press that will result in a NBA veteran destroying him" for the 2010 rookies? The money line is Cousins (-50) and field (-7000). He's got the potential to rival Sheed in technicals by the end of his career. So he certainly deserves a drop and that may be too much for the young Nets.
But on the flip side, it's hard to find a prospect outside of Wall with as powerful a combination of immediate impact and upside as Cousins. He has the most impressive set of physical assets of any big in the draft, with length, frame and muscle all to the standard of an NBA starter from the get go. Give him the ball, and he knows what to do with it. At Kentucky he showed not only a patience in working to develop a shot but a ridiculous ability to draw fouls. He's just too big and physical to contain. Pair that polish and aggressiveness with Lopez and you have a pretty killer frontcourt.
Cousins is questionable defensively but that's tied into the headcase thing. When motivated, he can be smothering, and between he and Lopez, opponents might never see the light of day again.
Cousins is a remarkably risky pick but has the highest chance of making an immediate impact.
2a. Wesley Johnson, SF/PF, Syracuse: The complication. Okay, let's say the Nets decide that the Orange wing is the way to go. He's simply not big enough to play power forward in the NBA, but that's alright, because Terrence Williams logged most of his time at the shooting guard position anyway. So you push Courtney Lee to the bench, move Williams to the 2, slot in Johnson as your dynamic three, figure out something at power forward, and keep Lopez banging along. Not a bad option. Even Courtney Lee as the backup shooting guard seems like a good plan. But it does create somewhat of a glut at the position, particularly if the team elects to re-sign troubled but talented wing Chris Douglas-Roberts.
Having too much talent isn't exactly something New Jersey needs to be concerned with right now, but in planning for the future, a small forward that has difficulty in creating his own shot might not be the best option.
2b. Al-Farouq Aminu, SF/PF, Wake Forest: The reach. Aminu brings a lot of what the Nets are looking for. Versatility, an ability to spread the floor, enough size to play 4 in a jam, enough versatility to play 3 as a natural position. He's long, talented, has good work ethic and can score at the rim. He doesn't have terrific range, but the other wings for the Nets have those things. The problem is that he's simply too much of a reach. He's not considered on level with Wesley Johnson, Cousins, or Favors, and is part of the "soup" of picks between No. 5 and No. 12 in most mocks.
If the Nets can move down a few slots to take him and either pick up another pick (to bundle together for a later trade) or a veteran that can contribute, that might be a wise move. The Nets have so many concerns from a talent standpoint that trying to maximize their options may be the best approach. Getting Aminu would serve a lot of needs while not necessarily solving any, and a move down would relinquish them of the intense scrutiny of any of the other picks listed.
3a. Cole Aldrich, PF/C, Kansas: The bust. This would be a disaster. Aldrich was a phenomenal college athlete but his upside in the pros is limited, as is how he would fit in with Brook Lopez. The Nets would have a considerably bigger team, but how much that would help given their other deficiencies has to be a concern.

3b. Greg Monroe, PF/C: The slip. Monroe was as high as No. 3 in some drafts earlier in the year, but a subpar season along with a poor showing in the tournament has left him plummeting back down to double digits. Monroe's offensive game is developed enough for him to play at the four and his size is a huge plus at 6-11, but a lack of passing ability and limited athleticism have him hampered. And the reach factor again comes into play here, as Monroe would be available later. There's also a similar concern as with Aldrich as to his ability to fit in with Lopez. Monroe may be the most ready to make an immediate impact but his longterm viability and upside may render this too much for the Nets to go for.

4a. Trade the pick: The gamble. The Nets have three of the first 32 selections in the 2010 NBA Draft, including the number three. They aren't tethered to anyone but Lopez in terms of a talent standpoint, and have the cap space to take on any large contract a team would need to dump off in a talent upgrade. While the biggest prizes of the summer may be out of reach, that doesn't mean there aren't options if Thorn is willing to pursue them.
The Nets are in the weeds, but at least there are some choices. For the sake of the franchise, they'd best tread carefully though.