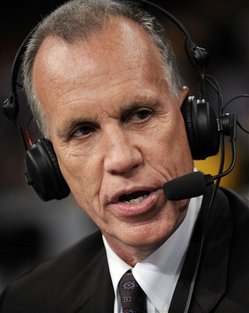 The Philadelphia Daily News and Associated Press are reporting that the Sixers have entered negotiations with former NBA head coach and current TNT analyst Doug Collins to become their new head coach.
That means if they can come to terms on money — and Philadelphia has to already have a pretty good idea what they needed to pay him to get him — Collins will get the job. One Philadelphia area sports radio station is reporting (via Philadunkia) the deal is done unless there is a significant breakdown in negotiations.
No real surprise here — Collins was the first interview (although the Sixers did plenty) and has been a front-runner the entire way.
This is a solid hire for the Sixers. They have gone from a coach that the players did not listen to — and whose offense they couldn't figure out — to a guy who brings a little cache to the job. The whole "I coached Michael Jordan" card will get people's attention.
The Sixers are rebuilding even if they are not willing to admit it, a process hampered by the massive contract of Elton Brand (paired with his pedestrian production). But with the number two pick in the draft they have the potential for a speedy backcourt of Jrue Holiday, to-be-drafted Evan Turner and Andre Iguodala. There is potential there, especially if Collins can get the Sixers to play better defense then convert that to fast break points.