Phil Jackson may or may not come back as the Lakers coach — but if he does it will not be at the $12 million salary he made this season.
"Yes, it has been indicated there will be a pay cut," Jackson said before Game 2 of the Lakers/Suns Western Conference Finals.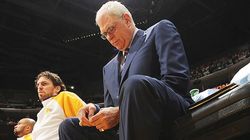 ESPN's Michael Wilbon went on his PTI buddy Tony Kornheiser's radio show today and said that he was told the cut will be all the way down to $5 million next season. Jackson dodged all talk of specific numbers.
"It's still a ridiculous salary whatever it is," Jackson said almost under his breath.
Jackson has hinted before that he expected a pay cut to be needed, but questioned whether he would take it, at one point asking a reporter, "would you?" But it is less about money — he has more than enough — and ultimately about whether or not he is enjoying himself. Whether he can physically put up with the rigors of a long season of travel again, and whether he wants to.
Jackson indicates he has not decided if he will return next year, saying Monday he is not leaning either way at this time. As was discussed earlier today, he is comfortable in Los Angeles and he is almost certain to stay here or retire. Most people close to Jackson think he will return.
But predicting Jackson is a foolish enterprise. All we know for sure is he will not be making $12 million next year.