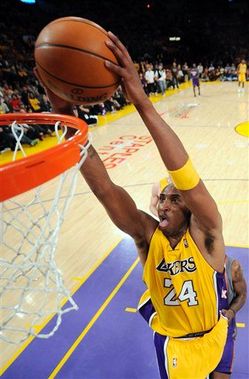 The Suns need to punch the Lakers in the mouth.
In game one the Suns were gracious hosts to Lakers who ventured into the paint to shoot — there was a red carpet, a nice spread of hors d'œuvre like bacon-wrapped scallops, plenty of space, basically everything but glasses of champagne. The Lakers took advantage of their hosts, scoring 56 points in the paint, both on drives and Pau Gasol's nifty footwork inside. The Lakers were driving right around guys on the perimeter and getting into the lane at will.
The Lakers finished the game 27 of 38 on shots inside 10 feet. That's a lot of shots, a lot of makes. The Lakers were also hot from the outside — Kobe in particular — and if LA is hitting inside and out any team is in trouble. The Lakers had crazy offensive efficiency of 136.2 (points per 100 possessions, that is 30 points better than their regular season average).
The Suns need to punch those Lakers in the mouth. Robin Lopez, Amare Stoudemire and the gang need to be physical and knock the Lakers down and around a little. The Suns have to take away the easy ones if they have any hope in Game 2. Oklahoma City did and they gave the Lakers a series. Utah did not.
The Suns need to prove they can do it.
There is more too it than that. The Suns should throw some different looks at Kobe tonight, try to get the ball out of his hands a little more. Look for them to give him some early double teams, but they have to switch it up. You can't keep giving Kobe one look because he adapts too quickly. The Suns may also consider putting a body on Lamar Odom — he's not just lucky.
Also, look for the Suns to break out some zone defense. The Lakers have struggled against that in the past and the Suns run it more than many NBA teams.
On offense, the Suns were not that bad — although the 23 percent from three hurt them. The Lakers contested shots, but the Suns just missed some open looks they cannot afford to in this series. That will not happen again tonight, bet on it.
What else the Lakers did well defensively in game one was slow the Suns pick-and-roll game — the Suns were just 9 of 16 directly off the play in Game 1 (56 percent). That is low for them, both in shots and makes. The Lakers defended it best with Gasol and Odom out — look for more of that combo, less of Bynum, especially late in games. With his knee, he is not nearly as mobile on those plays.
But this really comes down to the Suns defense. And toughness. If they can't push the Lakers out of their comfort zone, if they can't challenge them physically, this series will not be long for this world.