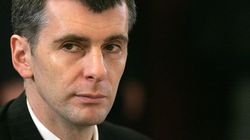 Mikhail Prokhorov talks a good game. Which is more of a good game than we have seen out of the Nets is a while.
The comments out of a media brunch in New York Wednesday morning dripped of high expectations, confidence bordering on hubris (maybe not bordering on…) and big plans.
Like his suggestion that it might be time to change the Nets name when the team moves to Brooklyn in a couple years (as noted at The Baseline, with suggestions). He even joked he would name the team after his girlfriend — then change the name every time he changed girlfriends. Which he reportedly does pretty often. I knew I liked this guy for a reason.
A sampling of his other thoughts and one-liners from the last couple days:
* Kiki Vandeweghe is out; his contract will be allowed to expire. (This was expected but was not yet official.)
* He says he can lure the "best of the best" to play for his franchise.
* He wants to make Knicks fans into Nets fans. (As was noted on twitter, first he should make Nets fans into Nets fans.)
* He wants to build a truly international fan base, on both sides of the Atlantic (and Atlantic Shipyards).
* He expects to make the playoffs next year, to win a title within five years.
* When asked by SLAM's Lang Whittaker if he was willing to lose money to win a title he responded, "Your question is not very optimistic."
Prokhorov was full of wit on one-liners. That and $4 will get you a latte. It does little in the world of NBA management.
Prokhorov has the skills for the long-term thinking, too. For smart management. This man did not luck into billions, he got in and out of things at the right time, he saw the big picture. For all the fun, that's the important thing he brings to the Nets.
And we haven't seen a lot of the Nets in a while.