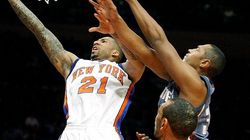 If you're going to get busted for possession for marijuana — a drug half the country wants legalized anyway — might as well go all out.
Like have smoke coming out of your car when you get pulled over by the cops. And having a joint plus like five bags of herb in that car. And driving around with your headlights off at night.
Well done Wilson Chandler, you have nailed it.
According to the New York Daily News, Chandler got pulled over at 11:30 pm in Queens last night for all of that. Then the reporters called his relatives in other states to get their reaction, and listen to them say, "not our nice boy." Nice stereotyping job by the Daily News throwing in that Chandler has a lot of tattoos, by the way.
Maybe this was medicinal for the groin strain that kept him out the last few weeks of the season….
Nah. This will mean rehab and maybe a suspension for Chandler, the third-year swingman who played well for stretches in the Knicks up-tempo system. He is young and can play, so this is not going to seriously hurt his standing among general managers or even on his own team.