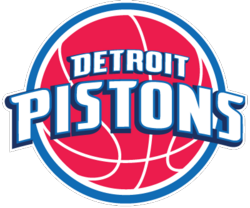 The Detroit Pistons were a franchise that knew what it was. Family owned and civic minded. Loyal. Putting together hard-nosed defensive teams where the sum was greater than the individual parts.
This season that fell apart on the court. However, Detroit News columnist Terry Foster suggests that may be just the visible manifestation of larger problems.
The firings last Friday of a popular public relations person and some top sales executives seem to illustrate that the once-family-like Pistons franchise is in disarray. It appears everyone's job is on the line during a period of uncertainty a year after the death of longtime owner Bill Davidson. Why else would The Palace fire four employees with more than 100 years of experience and escort them out of the building with security
It sounds like corporate infighting. With the death of Davidson a lot of top people from The Palace went over to the Ilitch Holdings, the company of Mike Ilitch that owns the Red Wings and Tigers. There were rumors they would be a suitor for the Pistons.
Maybe not. The people fired were ones with ties to the executives who left The Palace and at least one was told it was for violation of a confidentiality agreement. So it's about corporate rivals gaining knowledge. Great.
Karen Davidson controls the team but is looking to sell. Hopefully whoever ends up buying the team can return some of that family feel.