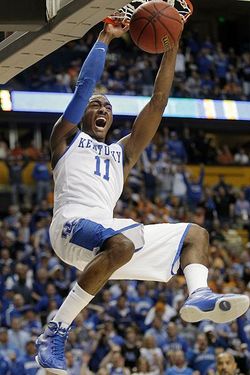 With the NBA Draft Lottery upon us, we thought we'd prognosticate upon five teams with a wide range of chances to gain the best choice tonight.
New Jersey Nets: They have more on the line than any other team in tonight's drawing. Drawing the top slot gives them not only the best player in the draft in John Wall, and a better shot at drawing Wall-friend LeBron James, but it means they can use Devin Harris as a trade chip to augment the rest of their roster. That's a pretty huge chip with how point guards are at a premium in this league. Wall brings legitimate star power, which New Jersey desperately needs. Even if they strike out in free agency, Wall plus Brook Lopez and the spoils of a Devin Harris trade would set them up nicely for the future.
Washington Wizards: Winning Wall would mean a reboot of the franchise, like it was a Batman flick. The Wizards say they're committed to Gilbert Arenas, but with a detonated roster and Wall on the way, wouldn't it make sense to trade Arenas for some younger pieces to fit in around Wall? Arenas could slide to shooting guard pretty easily but it leaves an opportunity to plan rightly for the future and not try to force anything. Plus, there's no way of knowing how Arenas will react to the debacle of last year, let alone finding out he's getting bumped to second tier status.
Utah Jazz: What would this mean? Outside of a massive run on arsenic for Knicks fans in the greater tri-state area? It means Evan Turner goes number one, is what it means. You don't bench John Wall. You just don't. And you don't trade Deron Williams, who many call the best point guard in the league. So what are you left with? Take Evan Turner, slide Wesley Matthews back to the bench creating a formidable second unit, and sign and trade Boozer for another frontcourt asset. Boom, you're reloaded for another six years.
Los Angeles Clippers: See ya, Boom. A Wall-Griffin tandem could be something special if Griffin comes back healthy, and putting Baron on the block could possibly garner some opportunities, if his contract doesn't completely repulse teams. That's a more likely option than going with Evan Turner and pushing Eric Gordon to the bench, or trying to squeeze Turner in as a small forward. Of course, this will all be rendered moot when Wall contracts some sort of bizarre condition underwhich he cannot play basketball. Because, well, Clippers, curse, yada yada yada.
Houston Rockets: The least likely team to win the lottery. If this were to somehow magically happen, the Rockets would all of a sudden look terrifying. When your starting point guard who was arguably your best player on roster goes to your sixth man, you bring in an all-world point guard and get back a seven foot, albeit slightly damaged All-Star center?  THE MOREY MATRIX. RELOADED.
BONUS: Minnesota Timberwolves: "More point guards! More! More! Mwahahahahahahaah!" – David Kahn