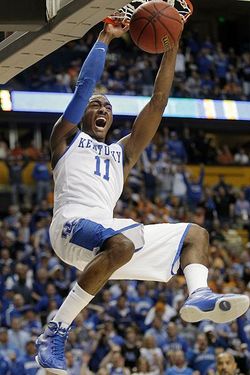 From punchline to prominence. The Washington Wizards have gotten the break they needed to restart their franchise.
The Wizards won the NBA lottery and will have the top pick in June's draft. They will now face a world of options as to how to approach the future of their franchise. Gilbert Arenas is their starting point guard, but John Wall is now right in front of them. They'll have the option of trading the pick, trading Arenas, or moving Arenas to shooting guard.
We'll discuss all those options later.
The Philadelphia 76ers were also big lottery winners, nabbing the #2 pick, moving up just like the Wizards did. They'll have the option of either John Wall or Evan Turner, whoever the Wizards don't pick.
The New Jersey Nets, who were looking like they had a chance to remake their franchise with the addition of John Wall and possibly a major free agent, fell to three and now face the likelihood of staying in the lottery for years unless they hit a homerun with the third pick.
The Timberwolves will likely not pick a point guard, falling to four and will now be facing a logjam with the #4 pick and a fleet of forwards to choose from.
We'll have more coverage for you throughout the night.