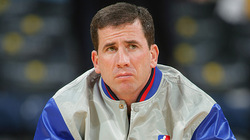 Disgraced former NBA referee Tim Donaghy and the publisher of his book, "Personal Foul," will no longer be working together, according to Dan Devine of Yahoo! Sports. The book had been published by a company called VTi, but VTi CEO Shawna Vercher stated in an email that her company has "decided to terminate our relationship with Mr. Donaghy and will no longer be representing him as a client." As for the book itself, the first edition has been "retired" and VTi "will not be distributing it in the future." In his own email, Donaghy said that Four Daughters LLC will be publishing the second edition of his book. The book garnered a lot of attention because of Donaghy's claim that it contained data about which referees have specific vendettas or biases that effect the outcome of a game. Most of the specific biases Donaghy mentions in the book were shown to not statistically exist by Henry Abbott and Kevin Arnovitz in a report last year. 
Donaghy and Vercher are telling very different stories about why their business relationship ended. According to Donaghy, the dispute is strictly financial — he claims that he has asked Vercher many times to "see where the money went" from the sales of the book, only to be denied that information, and that he "hasn't received a dime" from book sales. 
Vercher gave very different reasons for why her company decided to terminate their relationship with Donaghy:
Vercher told BDL the relationship had broken down "over the last couple of months, coming to a boil over the last week or so," when she alleges Donaghy began making "threats of violence."

"He threatened to come here," Vercher said, claiming that the prospect of Donaghy appearing at VTi's Largo, Fla., offices in search of royalties (which she says were not yet available, terming the fiscal turnaround "not a fast process") rankled her employees and frightened her.

"He mentioned that someone was going to come up here and get me, that they knew where I live," Vercher said. "He made mention of his ties to members of the Gambino crime family, saying that they were active in our area."

As the alleged threats against herself, her employees and her business escalated, Vercher said, she made the decision to cut the cord "for safety reasons."
Donaghy vehemently denies Vercher's claims, and stated that she is trying to profit off of his disgraced reputation. This will all become clearer in the next week or so, as Vercher has been served with a subpoena requiring that she present an accurate accounting of the total sales of "Personal Foul." Meanwhile, Vercher will be seeking an order of protection in a Florida court, and claims to have evidence of some of the threats Donaghy has made against her. We'll see how this all turns out.