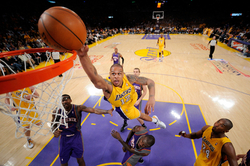 What was the most jaw dropping play of Game 1 between the Lakers and the Suns had a couple things wrong with it.
It was Shannon Brown almost leaping Jason Richardson for a dunk. The problems are: 1) That should have been called a charge; 2) Brown missed the dunk.
But he says he could have made it.
"I looked at the rim a little too late," Brown said. "I sized up the defense and took off, but if I had looked at the rim I could have made that a spectacular play."
It was still pretty spectacular — it had Kevin Durant tweeting that Shannon Brown has the biggest hops in the league. Brown said he knew he was going to attack from the start.
"When I got the ball from L (Odom) I looked and tried to let my peripheral (vision) do the work. I saw there was nobody in front of me and the guy on my left was occupied and to my right there wasn't anybody," Brown said. "Jason Richardson stopped, and when he stopped I seen where he stopped and then before he can do anything I just took off.
"Like I said if I had looked at the rim a little bit earlier I would have finished it. I was looking to see if he was set. I was looking to see how far away he was from the basket and all that… if I had looked at the basket I would have got higher, but I didn't look at the basket until I was in the air already."
Finishing that dunk would have been spectacular. But it was still a charge.