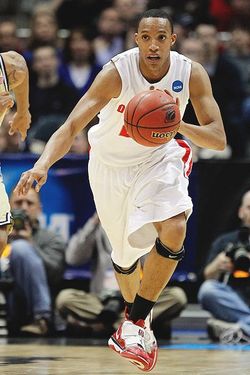 One very happy team is going to walk away with John Wall in their pocket tonight. All eyes will be on the franchise that drafts the fantastic Kentucky point guard, as Wall's brilliance and style have always demanded that all eyes are on him.
Another team, however, will be quietly snickering in the wings, as they put themselves in position to select Evan Turner in this year's draft.
Turner may not step into the league with Wall's star power, but he's the more polished overall talent at this point in their careers. Neither John nor Evan has a game with really glaring weaknesses (hence the projection for them to go first and second in the draft, respectively), which makes the decision between them reliant on a few marginal factors: age (Wall is 19 to Turner's 21), draw (even if Turner turns out All-NBA, Wall is All-Star), and difference in expected peak (Turner could be excellent, but Wall could be a transformational talent). Do those things matter? Hell yeah they do, and they're significant enough for Wall to be the consensus top pick rather than just a chic selection.
The team that drafts John Wall won't live to regret it, but the team that ends up with Evan Turner could be just as thrilled. Turner's versatility will make him a star in the NBA for a long time, and he has enough natural talent to become a terrific player. The comparisons to Brandon Roy are understandable; Turner's athleticism isn't off-the-charts, but he can act as the creator in an offense, score with the best of him, and works hard defensively. Turner's actually likely to be a better NBA defender than Roy, but with a similar ability to establish his team's offensive flow.
He's not John Wall, but some of the teams in the lottery don't necessarily need a John Wall. They could sure as hell use an Evan Turner, though. The best thing that could happen for the Minnesota Timberwolves, for example, may be to fall into the No. 2 pick rather than #1.
Don't get me wrong, Wall could be just the player Minny needs to jump-start the real rebuild, even if he seems like a strange fit with Kevin Love and Al Jefferson. Turner however, while perhaps less talented than Wall, seems to be a far more natural addition for a shooting guard-deprived roster.
I just don't trust David Kahn to make the right call. Turning down John Wall would be a damn hard decision for any GM, but with one who gets a bit batty when he sees the letters "PG" anywhere on his draft board, there's no chance at all that Turner could be taken with the top pick. That's why the second pick in the draft could suit the Wolves just fine, as they add a top-flight 2-guard that can not only improve their team on both sides of the ball, but is an ideal facilitating scorer for the triangle offense.
It's unclear exactly how long Kahn will stick with the triangle or with Kurt Rambis for that matter, especially considering how much emphasis he's put on acquiring point guards that work best in a less structured offense. Should the system persist though, Turner would be fantastic at providing scoring without stopping the team's ball movement.
Minnesota is just one situation that would greatly benefit from the addition of Turner, but in reality there really aren't teams out there that couldn't use a player this good. Wall may receive all the hype, but Turner's skill set, style, and production all point to him being a fantastic pro.