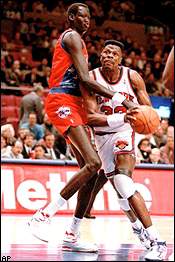 Popular former NBA player Manute Bol is currently in a northern Virginia hospital fighting for his life.
Dan Steinberg at The Sports Bog (part of the Washington Post) reports that Bol had been hospitalized after a return from his native Sudan with Stevens-Johnson Syndrome — a life-threatening skin condition — as well as kidney failure.
Tom Prichard, who has worked with Bol on building a school in Sudan through the group Sudan Sunrise, said that Bol was returning from several months in Sudan, where his health had deteriorated. Prichard said Bol flew into Dulles and had to stay overnight near the airport before a flight back to his family in Kansas; after friends asked the hotel manager to check on Bol, he was rushed to a local hospital.

Prichard said that Bol has undergone three rounds of dialysis, and that the Stevens-Johnson Syndrome might necessitate a move to a burn unit.

"He's at great risk," Prichard said. "He's in a bad way."
Bol at 7'6″ was a bit of a sideshow at times, but he lasted for a decade in the NBA starting in 1985. He played for what was then the Washington Bullets as well as Golden State and the Sixers. He was a fan favorite everywhere.
In recent years he has focused a lot of work on reforming the politics in southern Sudan and helping people there — a Herculean task. He has done a lot and stayed on in the Sudan recently when he started to get ill. By the time he returned to the United States and was taken to a hospital, it was almost too late.
There is a Facebook page set up for those that want to wish Bol well with his recovery.