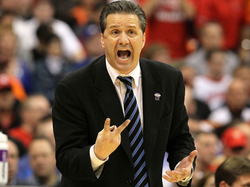 LeBron James and John Calipari are not tied at the hip.
A day after reports that CAA agent and the NBA's quietest power broker William "worldwide" Wesley was trying to sell teams on the two as a package, everybody and their brother are denying it.
The Chicago Bulls are telling ESPN.com's Andy Katz that they have not been contacted about this pair. Same with the Los Angeles Clippers.
ESPN The Magazine's Chris Broussard says sources told him LeBron is not demanding they be a package. Another of his sources close to Wesley said the man himself did not make any such offers.
That's a lot of denials. None of which really matter that much.
Working through official channels has never been Wesley's way. He quiet, much more subtle than that. He will make these offers through back channels and through intermediaries, allowing him and the teams to make denials as they did to Katz and Broussard. We'll add this doesn't mean teams will accept this offer, or that it is even likely a team would take this deal, but the offers will not be made through the front door.
Meanwhile, Calipari is working to keep his incoming, powerhouse recruiting class together at Kentucky.
Elite incoming college recruit Brandon Knight told the South Florida Sun Sentinel that Calipari told him he will be back at Kentucky.
"He said he's not leaving and that he'll be there," Knight said. "I'm not really worried. Even if he does decide to leave, that won't ruin the whole situation for me."
Knight is a two-time Gatorate National High School Player of the Year, but one smart enough not to sign a university-friendly, binding letter of intent (he simply applied for a financial aid package, meaning a scholarship). Unlike other college recruits, he can change his mind and apply elsewhere if he wants.