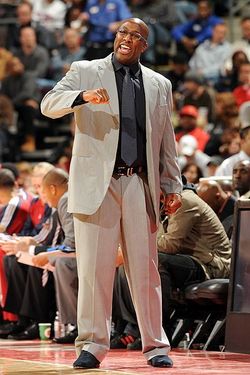 Cleveland Cavaliers coach Mike Brown has not been lined up in front of the firing squad yet, but he and his staff are requesting their last meals.
While reports that Brown would be fired the day after the Cavaliers were eliminated from the playoffs were premature, everyone expected us to get to that point. And according to Brian Windhorst at the Cleveland Plain Dealer, it is close.
According to sources, Brown and his coaching staff are preparing to be let go. Meanwhile, the front office and team owner Dan Gilbert are believed to be considering a list of possible replacements.

While Gilbert said his evaluation period will last 7-10 days, it won't likely last longer than that. According to multiple sources, there is a clause in Brown's contract that changes his compensation for the remaining year of his contract if he's let go more than 10 days after the season ends.
Brown would probably like to be let go sooner rather than later, giving him time to see if he can land one of the head coach openings around the league. More likely, he will have to return to the assistant level for a while.
But in the NBA, every coach gets a second chance. And if you can say you led your team to the best record in the conference two straight years, that will help. Brown's time will come again.
Right now, it is just waiting time for him to be let go.