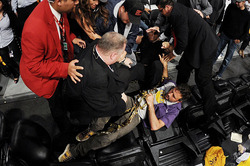 There are celebrities who show up to those prime courtside Lakers seats to be seen, and then there are celebrities who are Lakers fans. Or maybe a little of both. Jack Nicholson likes to be seen, but nobody questions his fanhood.
Same with David Arquette. You know him, the guy from the Scream movies married to Courtney Cox. (Oh and don't worry, they are making Scream 4.) He's in the front row all the time at Staples and he's a fan.
And, apparently, he wants to be a security guard for a second job. ESPNLosAngles.com's Ramona Shelburne had the story.
Eyewitnesses describe Arquette as a "peacemaker" after he was knocked to the ground trying to help a security guard who'd been pinned to the ground by a fan who rushed the court after the Lakers beat the Suns 128-107 in Game 1 of the Western Conference finals.

Michael Roth, vice president of communications for AEG, which operates Staples Center, couldn't confirm Arquette's involvement in the incident, but confirmed a physical incident occurred along the courtside seats opposite the Suns bench at the end of the game.

"At the end of the game, a fan came out of the stands and out on to the court," Roth said. "Any time a fan breaches the court, you don't know what their intentions are. We approached him and asked him to leave and when he didn't want to leave, there was some force used."
Remember, Arquette has some wrestling experience, you may not want to mess with him. Those wrestlers know how to use those courtside folding chairs.