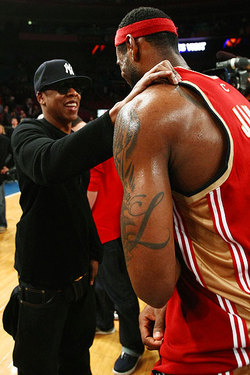 Clippers fans are throwing a quaint little parade. Bulls fans are acting like frontrunners. Cavaliers fans are FREAKING OUT.
The Knicks? They are ready to make a pitch to LeBron James using the best selling point they have:
New York City.
The stars, the glamour, the fast paced life, all of it. Living the perfect big-city life (see: Rodriguez, Alex). Mayor Michael Bloomberg offered to do the tour of the city himself. Frank Isola at the New York Daily News breaks it down.
Several sources claim the Knicks will seek the help of James' favorite team, the Yankees, as well as an assortment of celebrities from movies and music. And since James has talked about becoming the pro sports' first billionaire team athlete, the Knicks will likely call upon a number of power brokers from the business world. Expect Donald Trump to be available…

"This has got to be bigger than anything they've ever done before," says a person familiar with the Knicks' thinking. "They just can't give him a Knicks jersey and announce his name at the Garden. That won't do it. And let's not forget about the (Knicks owner James) Dolan factor. Who knows if LeBron will like him?"
Dolan has actually been great at recruiting people. It's the working with them thing that gets hard. But the Knicks know how to recruit, as Isola breaks down talking to Grant Hill. Back a decade ago Hill was one of the top free agents and the Knicks wooed him by video messages and meetings with stars. Among more.
The best story Hill tells was on the Knicks one screw-up.
Everything was going smoothly until the actor Leon appeared on a video screen to clue Hill into some of the other benefits of being a big star in the Big Apple.

"Looking back it was funny," Hill says. "He told me that if I came to New York I'll have loads of women. My wife just looked at me. She wasn't smiling."
Hill went to Orlando — a team that could offer more money at the time. Money will be less an issue with the Knicks, they can offer the max. It's a question of fit and winning.
But you can bet nobody will have a recruiting pitch like New York.