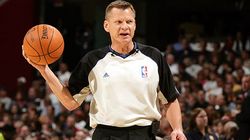 Nobody really is sad when a referee retires.
But they go through some of the same things players do. Steve Javie has been wearing the striped jersey out on the NBA hardwood for 24 years. He's been in the middle of 18 NBA Finals games. Fans in a lot of cities thought he was out to get just their team — maybe the best sign for a referee.
But he can't run anymore without pain. Not right now. There is almost not cartilage left in his knee after the years of pounding his legs have taken. He's undergoing intensive rehab to try and get another year or two on the court.
He sounded a lot like a player that way when he talked with NBA.com's David Aldridge.
"Toward the end of last year, in the playoffs, it really started bothering me," he said. "I really couldn't wait until the end of the playoffs just to give it some rest. And I did give it rest at the end of the playoffs. But then when I started to work out again, it wasn't as good as it had been in the past, getting ready for this season. And it only took a couple of weeks before it really blew up again. Not only was it swelling up a lot, the pain was there too, where it was tough just getting off the elevator and getting to my hotel room."

An MRI determined that, like many players who've spent years running on hardwood, Javie's knee was almost bone on bone, in arthritic condition. He saw specialists in Philadelphia and New York. He looked into cartilage replacement from cadavers, but that would mean eight to 10 months of rehab, and Javie is only going to do this for another year or two even if he gets back on the court next year.

"There really isn't much they can do," he said. "There's nothing you can do arthroscopically, of course, because there's nothing to scope. And a couple of people suggested replacements of some sort. But once you have a replacement, whether it be partial or even a full one, they don't recommend running on it to the rigors of our job. So if I ever got a replacement it would be like the end of the road for me.
Javie also sounds like a player who just retired — a guy who misses the action. He talks about watching games on television and wanting to be there. To hear the crowd again.
It's still withdrawal. Even if everyone in the building hates you.