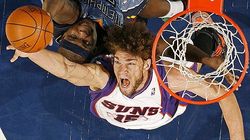 Be sure to come back at 9 p.m. (Eastern, 6 on the West Coast) for our live blog from tonight's game.
Robin Lopez will start for the Phoenix Suns in the only real bit of pregame news from players and coaches before Game 1 at Staples Center.
Suns coach Alvin Gentry said he wasn't expecting big minutes out of Lopez, who has not played in a game since March. If the Suns can get 15-20 out of him, they should be happy.
There also is a rumor here at Staples that Lopez will guard Pau Gasol, while Amare Stoudemire will by on Andrew Bynum. If Bynum were healthy that would be a big size advantage for the Lakers, but he is not. Watch to see if the Lakers can exploit that matchup.
With a week between series, there was little new to find out, no new angles to talk about before this game.
I his pregame press conference, Phil Jackson said he was not thinking about retirement and was not leaning either way.
"I'm leaning on this podium, that's it," Jackson said.
Jackson again dodged talking about the immigration issue as well, refusing to discuss the issue.
The coolest thing seen pregame: TNT studio host Ernie Johnson got a ball during warm-ups, walked to the corner three and — in full tie and dress shirt — missed the first shot. Lakers assistant Chuck Person challenged EJ with a "that's all you got?"
Johnson coolly drained the next one, then went back to his set.