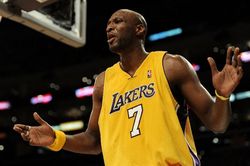 When Lamar Odom is on, the Lakers are a much, much tougher team. And he is on.
Odom has 15 points on 7 of 9 shooting, added eight rebounds and has played good pick-and-roll defense as the Lakers took a seven point lead at the half. Kobe Bryant has added 14, Amare Stoudemire leads the Suns with 15.
The Lakers defense — after a rough first six minutes — played the Suns well, taking away passing lanes and contesting jumpers. The Suns are still getting points because they are a good offensive team, but they are shooting 50 percent overall and more importantly just 3 of 10 from three. That was something the Lakers were talking about focusing on all week.
The Lakers on the other hand are shooting 61 percent as a team and hit 4 of 5 threes. Pau Gasol and Andrew Bynum are a combined 6 of 8 from the floor, but it is Odom that the Suns have not been able to account for and has been the difference so far.